Youth Ministry
Our Youth Ministry is a fast growing ministry here at Melissa United Methodist Church and we want you to be a part of it! Youth that are currently in 6th-12th grades gather together on Sunday evenings from 6:00-8:00 PM for fun & games, mission & outreach, faith development & Bible study.
We would love to have you come a be a part of our fun and growing group of young people who strive to grow together in grace, fellowship, and the word of God. If you have any question email .
Events Loading
Welcome our new Director of Youth Ministries, Miriam Ross!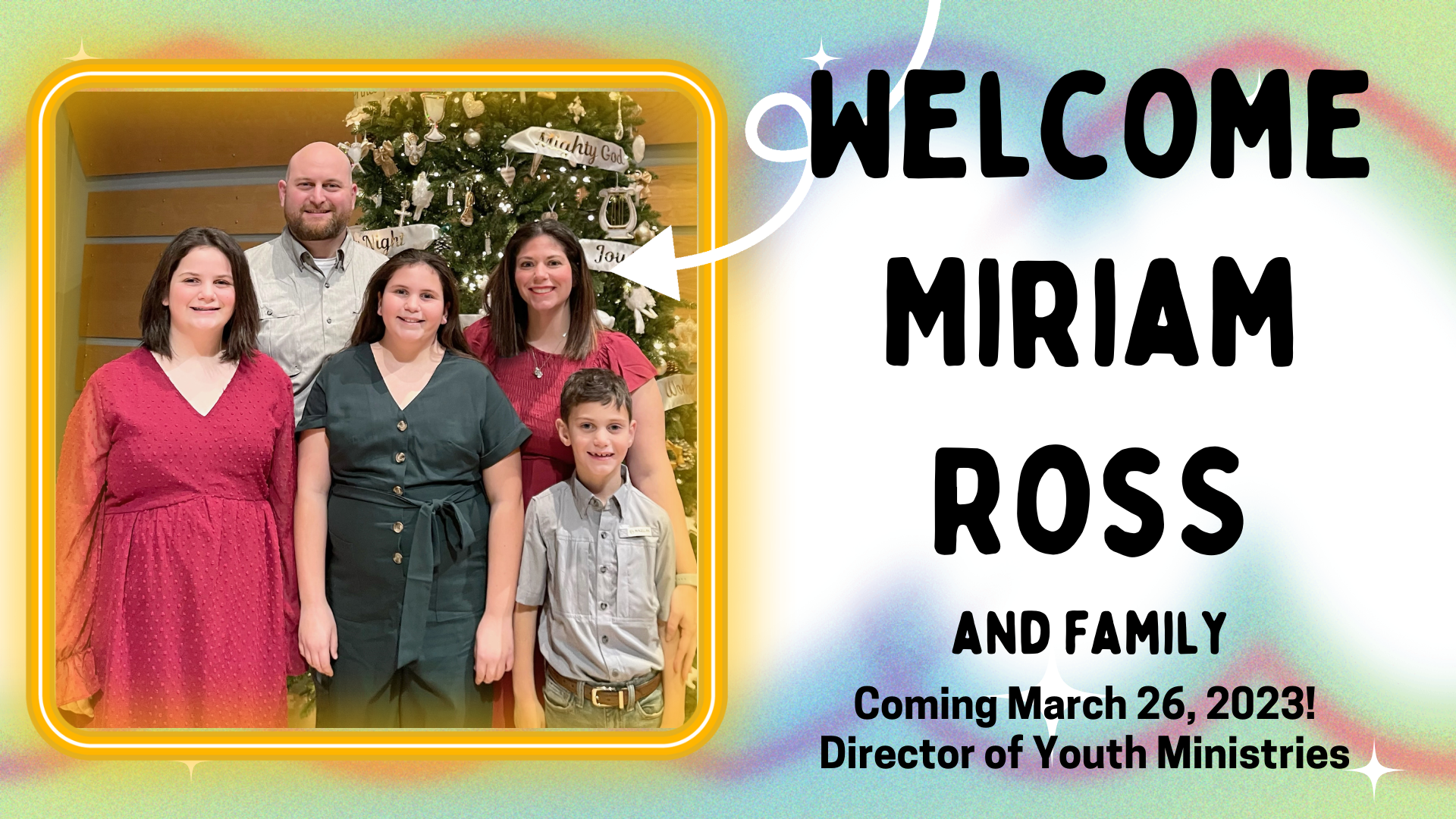 We've been searching for months for just the right person. We have been searching for someone to walk alongside of our youth as they grow in their faith. We have been searching for someone to become a part of our church community to welcome, encourage and to serve. AND WE HAVE FOUND HER! Melissa UMC Resource Team would like to introduce you to Miriam Ross.
You'll have a lot of questions so let's get a few out of the way.
Who are Miriam's VIPs, very important people? Husband Andrew, Kaylie, Emalyn, and Sawyer.
Where are her favorite places? Miriam was born and raised in Starkville, Mississippi (Go Bulldogs!), lived in Louisiana for a little while before landing in Texas. She loves to travel, Disney, the mountains, but is not a fan of sand.
Tell us about her education & degrees. Miriam has her Bachelors from Southeastern Louisiana University in Communication with a minor in history. She is working on a Master of Divinity and a Master of Arts in Christian Education from a Union Presbyterian Seminary in Charlotte, NC. She is one half of a credit shy of becoming a certified Christian Educator in the PC (USA) denomination.

How would Miriam describe her ministry passion? I love all things youth ministry wise! Camps, conferences, sticky hard faith questions, games, and mission are some of her favorites. Most importantly, she loves the moment when a youth realizes who they are and that they matter.

Why does Miriam say she chose to join the team at Melissa UMC? "It just felt right!"

Will Ashley Shuma keep working with youth? YES! Ashley has been leading Sunday nights since August and she is awesome! But she does have a full time job with Melissa ISD. She will continue to serve alongside of Steve as a part of our youth volunteer team.
Miriam's first day in her new position is Sunday, March 26th. She will join us in worship on March 19 so that we can welcome Miriam and her family to Melissa UMC!
Sunday Mornings @ 10am
Games (Portable D) & Confirmation (Portable C)
YAM on Sunday Nights from 6-8pm
Youth At Melissa Sunday nights!
Confirmation Class begins Fall 2023
Confirmation is a journey of learning about faith that is open to people of all ages and at all places in their faith journey. At Melissa UMC, we begin an intentional confirmation journey for our middle school students each year. They learn about the Bible, about the United Methodist Church, and about what it means to live as a disciple of Jesus Christ. Click here to read an article about United Methodist beliefs about Confirmation. If you would like to receive information about becoming a part of this year's confirmation class, .